Camp Highline
 
Our September 2021 program has been canceled
  Mountain Bike Event for High School Boys Emphasizing
Faith Riding Purpose
Wanna Ride?
Descending steep terrain, weaving through trees, catching some air, and carving a corner can all be the greatest, or a bit frustrating when trying to take your skills to the next level.
Whether you want to come out for a great time with friends on bikes, or seriously score race-ready skills, Camp Highline is for you. Our competent staff has the goal of helping every camper become a better mountain biker both on and off the trails.
We are eager to share an even greater joy and purpose in life discovered through our personal relationships with God. Camp Highline offers a clear message of hope for kids who are open to exploring the Christian faith and meaningful spiritual encouragement to those who have begun their journey with Jesus Christ.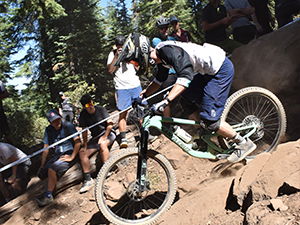 Camp Highline is a three-day, two-night program for high school boys with an intermediate level riding ability. It will be staged on a private ranch in North Bend, WA along the Middle Fork of the Snoqualmie River in a primitive camp setting. The program will include instruction from pro-level enduro and downhill riders both before and during trail rides, fun activities, evening campfires, messages from the Bible, lots of good food, time to hang with the dudes, and a possible swim in the river or a lake.
Camp details
Date: Future Camp Program TBD
Contact: For more info contact camp director Keith Stringfellow: keiths@infaith.org
Instructors Include:
Jake Kinney: 9 years of full time competing as a professional, National and Local Series Championships (DH, 4x DS), 20 years involvement in the bike industry, Elite MTB coach, multiple video projects, Youth Camp Director, killer cornhole player. Just for fun, check out this video of our staff: Ghost Town ft. Jake Kinney
David Stringfellow: 2018 SoCal Enduro Series Pro Champion, 2019 Enduro Nationals 14th Pro, Competed in EWS continental and international events in 2018 and 2019, Aspiring elk rider. Just for fun, check out this video of our staff: Escape the Chaos | Mountain Biking Mt. Wilson, CA
Program Fee: TBD
Fee Includes: All camp activities, 5 meals, and snacks, shuttle service to trails, Instructors, property usage, Camp T-shirt, Liability Insurance (backup to primary care of each participant). Bike and all riding gear are the responsibility of each camper.
Registration Deadline: September 7. Spaces are initially limited to the first 20 high school boys (based on grade this fall). Don't delay, register today.
To pay for the participant fee click here: Pay Participant Fee
For further details and registration info, please download the necessary documents below.
Can't participate but would like to make a tax-deductible donation to scholarship a camper or help support the operating costs of materials, T-shirts, shuttling kids to trails, etc.? Then click Donate