Bridging the Gap: Hope in the Midst of Addiction
"Doris doesn't judge anyone," says Steven Roatch. "She's always there to listen."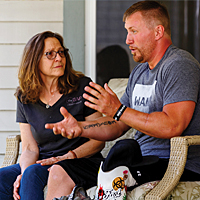 For those, like Steven, who are coming out of drug addiction and jail, finding a place where they aren't judged can be difficult, even in Barron County, Wisconsin, where—as in much of the nation—methamphetamine addiction has become a major concern because it's relatively cheap, highly addictive, and readily available.
Enter InFaith's Doris and Dave Jasperson, who started The Gap—a refurbished old house where people in recovery can meet for support, accountability, mentoring, and counseling.
"Recovery is dependent on who you hang with and where you hang out," says Judge Michael Bitney, presiding judge in Barron County's treatment court, which handles felony drug and drunk driving offenders. "Just locking [offenders] up doesn't solve the problem. You have to help," he says. 
Before starting The Gap, while teaching a court-ordered, cognitive-behavior class to those on probation and those in treatment court, Doris noticed that while a lot of needs were being met, the emotional and spiritual part was missing. "There's just no recovery without Jesus," Doris says. "It's about surrendering the mess of a life to God. [People coming out of addiction] need something way bigger than themselves." Upon entering The Gap, everyone is greeted with a giant hug from Doris and a listening ear. The Gap has a Christ-centered 12-step group for those addicted to drugs or alcohol, a support group with a Bible study and dinner, Moral Reconation Therapy, and more.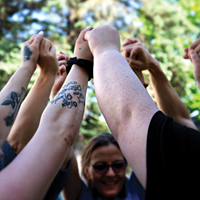 Two weeks after getting out of jail, with drug addiction and multiple crimes to his name, Steven Roatch had a near-fatal motorcycle accident that caused him to lose the bottom portion of his left leg and put him in the hospital for three weeks. "That was the best day of my life," Steven says. "It made me see that my way is not the right way. God told me, 'Just follow me.'" That's when Steven found his way to The Gap and started attending classes there. "What [God's] done for me in one year is unbelievable," he says. "All I can see is hope for the future." 
"I believe God puts something in your body that craves Him. And He's the only one that will make you whole," says Joe Rush, another man who has benefited from The Gap, after multiple arrests for selling meth.
Joe says his goals and prayers for the future are already happening: he's reconciling with his kids; he's gotten off drugs; and he's completed his HVAC training, gotten a job he loves, and received a promotion. "I'm learning so much," he says. "Doris and Dave have shown me a new way of living."
"Everybody is worthy of second chances," Dave says. "Through Jesus Christ everybody is given hope for redemption."
"If you want to change the community, you do it by changing one heart, one addict, at a time," says Judge Bitney. "[Doris and Dave] give hope to the hopeless."
[After seeing how no one wants to rent to someone with a felony record, Dave and Doris started looking for a way to fill that need, as well. "It took two years to find this place," Dave says of the old house they refurbished. The Jaspersons named it The Bridge, and they invite men to live with them, providing short-term affordable housing for those coming out of incarceration who are serious about their sobriety. To learn more about the Jaspersons or to donate to their work, go to infaith.org/doris-dave-jasperson.]
Watch our video about Doris and Dave Jasperson's local ministry at infaith.org/ricelake.