Reach Local: Serving Those Who Serve
The Travis Dalsis Story: Fort Polk, Louisiana
In the pre-dawn darkness on the U.S. Army installation of Fort Polk, Louisiana, InFaith-endorsed Chaplain (Captain) Travis Dalsis leads a hundred or so soldiers in physical training (PT). He pauses between exercises to give words of encouragement and talk about resilience. Travis does the exercises with three groups of soldiers—holding on to his plank until the last count, going all the way down on every pushup—even when men and women at least 10 years his junior stop short on their final exercises.
"Being a chaplain means going through the same reality that soldiers do," says Travis, who is the chaplain for the 46th Engineer Battalion. "We're serving in a very incarnational way, like Jesus did. He took on flesh and became man. Chaplains take on this uniform and learn what it means to be an Army soldier."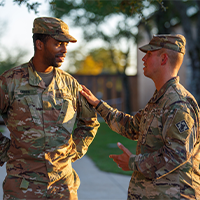 Soldiers face a unique set of challenges. They have to fit into the structures of the military. They are often geographically separated from everyone they know, which can lead to relational issues and loneliness. And when deployed, they are faced with life-and-death situations in their daily work.
"The military is really hard," says Private Andrew Herrera, who struggled after arriving at Fort Polk. "Most of the time every soldier feels alone. We need someone there to just listen. Chaplain Dalsis helped me from going further down into depression."
"If we didn't have chaplains, I guarantee there'd be more suicides," Andrew adds. "Knowing that we have God right there helps."
Chaplains reach local by daily interaction with their soldiers. "A civilian minister sees the members of his congregation one to three times a week, whereas Army chaplains live with their congregation every day," says Chaplain (Lieutenant Colonel) Derrick Riggs, the garrison chaplain for Fort Polk, who runs all religious support across the post. "The chaplain is out in the mud and rain, figuring out how we can take care of our soldiers' needs. Chaplain Dalsis is probably the most integrated and influential chaplain on the installation."
Travis has earned that compliment by bringing around popsicles on hot days when his soldiers are working on their vehicles and by organizing gumbo lunches that offer free massages and time with emotional support dogs. He creates marriage retreats and singleness seminars. He teaches classes for soldiers to become suicide interventionists. He takes soldiers to escape rooms and talks about finding success when you're frustrated. He works alongside them and does the extra push during PT. He does all these things so that when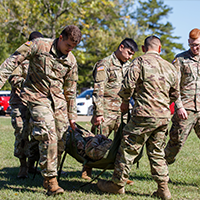 soldiers come to moments of crisis, they know he's someone they can trust.
"Chaplain Dalsis is always going above and beyond," says Sergeant Ethan Tharpe. When Ethan told Travis about the struggles in his marriage, Travis checked in with him daily. "He just encouraged me and encouraged me."
"I've seen God work in so many ways," Travis says. "through relationships with soldiers who feel like they don't have any hope. They want to know that there's something beyond this dark spot. The relationship I've had with them allows them to know that God cares. It's been amazing because with God—He does such a powerful work that I can't do. I'm a human being, but God does things behind the scenes that allow for miracles to happen."
[To learn more about our Chaplain Endorsement Program, go to https://infaith.org/know/chaplain-endorsement.]
Watch our video about Chaplain Dalsis's local ministry at infaith.org/fortpolk.